The future of wealth is shaped by a new generation of investors - bringing new thinking, expectations, and standards. Across this four-part series, Harbour delves into the evolving landscape and strategies for generating customer value, poised to be the primary catalyst for both present and future transformations in the sector.

In part one, Andrew Bascand explores the trends set to revolutionise the wealth management sector in New Zealand …
New Zealand households are facing a significantly different era in the accumulation of wealth and how they receive advice.
In the last decade total household wealth catapulted to over $2.2 trillion, or around $400,000 per household[1], propelled principally higher as house prices lifted at an unsustainable 9.4% pa growth rate.[2]
In the next decade four trends may collide to produce different a different landscape for wealth accumulation.
KiwiSaver passes the $100bn mark

First, KiwiSaver seems likely to become a significant force in shaping household wealth across a broad spectrum. At over $100bn today, average KiwiSaver balances are about $30,000. Continued growth in contributions, higher wages and salaries and market returns could see KiwiSaver jump to over $260bn over the next decade.
We estimate that more than 110,000 individuals have KiwiSaver balances more than $80,000 today. Projecting those balances forward, the 35-55 age cohort are likely to average more than $500,000 in ten years' time. Even individuals in those age cohorts with balances above $40,000 today are likely to see balances rise to more than $325,000 on average in a decade.
These figures, representing the older and higher income earners, conceal the unresolved KiwiSaver policy issues - with gender gaps, a relatively low contribution rate and a high number of savers pausing contributions. Despite these concerns, the future of wealth in New Zealand has a much larger proportion of households with KiwiSaver as their principal source of retirement income, and surveys increasingly point to a growing desire for both advice and access to savings choices via a digital platform. According to a recent survey conducted by the Financial Services Council NZ, 19% of respondents are using or have used micro-investing platforms, and an additional 15% are planning to.[3]
Intergenerational transfers push funds to women and family offices

Second, as in most countries, demographics can shape the most significant trends in how we spend, save and accumulate wealth. In New Zealand we are entering a significant acceleration in the percentage of the population that are over the age of 75, and an even more impressive growth rate in the cohort that is over the age of 85. These demographic changes prescribe a higher probability of a faster pace and larger volume of intergenerational transfers in wealth and, given gender survivorship bias and the evolution of conventional gender roles, a higher proportion of female leadership in the investment decision making processes. Inevitably wealth transfers bring complexity, and often benefit from financial advice. Wealth advice practices that focus on family office creation and female decision makers are likely to see significant growth. New Zealand analysis indicates that already 19% of inheritance financial transfers are focussed on creating legacy assets for grandchildren[4] reflecting both emotional and financial values.
Looking at Australian trends, the average value of inheritances was $125,000 in 2019, with A$120bn transferred in 2018, up from $65bn at decade earlier.[5] The recipient average age is about 50 years old in Australia, but with a large age distribution. The more interesting trend is the rapid rise in the number of inheritances from about 200k-250kpa to over 400k in the most recent survey year. Based on age cohort progression, the trend of an increase in the number of inheritance payments and the average size both seem likely to continue.


Age equivalised wealth by birth decade and age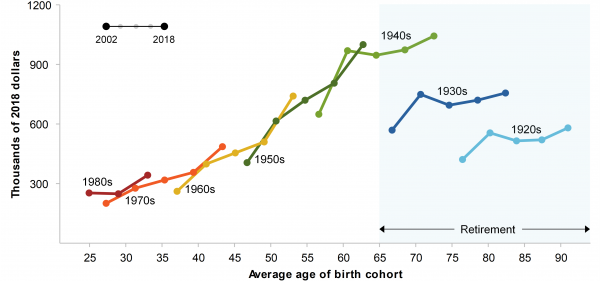 Source: Australian Productivity Commission estimates using HILDA Restricted Release 19 2021.
Integration of wealth and asset management

Third, we see a global trend in wealth and asset management coming closer together, principally through digital platforms. The key outcome is a continued fast pace rise in the adoption of managed accounts, often through pooled investment vehicles, or model portfolios led by a professional investment team. In the US, a 2023 survey of financial advice practices[1] identified 56% of financial advisers using model portfolios, up from only 17% a decade earlier, with a further 22% noting they were likely to adopt model portfolios or pooled investment funds in their advisory business. This trend reflects synergy benefits from scale, professional investment advice, and merger and acquisition activity drawing large asset management and wealth advisory businesses together. The additional benefit has been the identified efficiency gains in advice practices. The same US survey identifies 17.1 hours a week in time efficiencies, and perceptions of better performance and lower fees.
Figure 2.
The rapid adoption on model portfolios in the US investment advice industry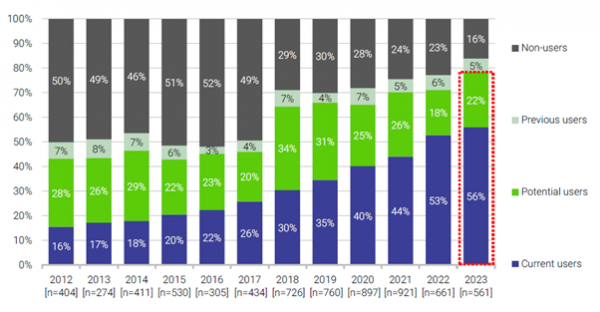 Source: State Street Global Advisors, Investment Trends January 2023.
The digitisation of advice

Finally, technology (and specifically generative AI (artificial intelligence)), seems likely to further influence the advice industry. Data-driven personalised advice and engagement beyond portfolio management already characterises the largest wealth managers. For instance, Morgan Stanley has implemented their 'Next Best Action' system for identifying (with machine learning) personalised investment portfolios, research and ideas, then distributing these directly to clients or to advisers to share. Hybrid models that leverage expert advisers, model portfolios, and a consistency of insights can deliver a competitive advantage.
Recently, at an investment conference in Christchurch, the development of a draft Statement of Advice via a generative AI programme was demonstrated to an audience of advisers. The advice itself was based on an imaginary couple, themselves created by AI, using a set of parameters. The draft advice was tailored to New Zealand's regulatory framework and the investment philosophy of an advice company. At a glance, the report (produced in less than 210 seconds) seemed to be a great way to embrace a consistent, more effective style.
AI seems likely to improve both acquisition capabilities and reduce churn through providing more timely, customised filters, actionable ideas, and conversation suggestions for client interactions. The capabilities may close the advice gap, helping advisers to profitably serve clients with funds less than $1m and lessen the regulatory burden. Developing investment scope and objectives, consistent reporting and reviews are often still heavily manual processes. In part, the integration of model portfolios and integrated wealth and asset management responses to clients' needs will likely lead further cases for AI; however, most consultants expect the client front-end applications will significantly enhance both adviser productivity and lift investor engagement.
In summary

KiwiSaver has broken the $100bn mark and is on the way to well over $250bn in the next ten years, meaning the advice opportunity is significant. Second, intergenerational transfers are entering a super cycle. The advice industry needs to get into another gear to support both a greater leadership of women in investment decision roles, and in a providing broader family office advice for intergenerational wealth. Third, we are entering a new phase which combines the strengths of advice and investment management to enhance the solutions brought across the advice spectrum. Finally, integrating these trends is a positive power to improve adviser productivity and client outcomes, in particular, the use of data-driven investment and advice ideas via generative AI.
IMPORTANT NOTICE AND DISCLAIMER

This publication is provided for general information purposes only. The information provided is not intended to be financial advice. The information provided is given in good faith and has been prepared from sources believed to be accurate and complete as at the date of issue, but such information may be subject to change. Past performance is not indicative of future results and no representation is made regarding future performance of the Funds. No person guarantees the performance of any funds managed by Harbour Asset Management Limited.

Harbour Asset Management Limited (Harbour) is the issuer of the Harbour Investment Funds. A copy of the Product Disclosure Statement is available at https://www.harbourasset.co.nz/our-funds/investor-documents/. Harbour is also the issuer of Hunter Investment Funds (Hunter). A copy of the relevant Product Disclosure Statement is available at https://hunterinvestments.co.nz/resources/. Please find our quarterly Fund updates, which contain returns and total fees during the previous year on those Harbour and Hunter websites. Harbour also manages wholesale unit trusts. To invest as a wholesale investor, investors must fit the criteria as set out in the Financial Markets Conduct Act 2013.
[1] Statistics New Zealand Household Economic Survey 2023
[2] Based on Real Estate Institute of New Zealand National House Price Index.
[3] Financial Services Council, Money and You – Investing in Volatile Times Survey 2022
[4] The Public Trust: Intergenerational wealth research June 2023
[5] Wealth Transfers and their economic effects, Australian Governments, November 2021